Job Bridge report is out!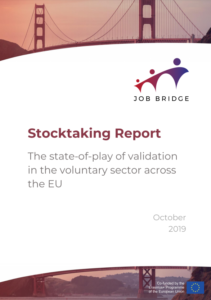 The present report analyses the current European State-of-play of validation of non-formal and informal learning in the
voluntary sector and its relation with employment.
It is a result of an extensive research combining desk research
(EU policy documents, NGO reports, findings from other European projects), two online surveys (one for volunteers, one for organisations hosting volunteers), qualitative interviews and
focus groups conducted in 6 EU countries (Germany, France, Bulgaria, Spain, United Kingdom, and Belgium). The interviews and focus groups also involved employers from the public and private sectors.
The surveys collected over 1000 answers and 92 individuals were involved in the focus groups and interviews.
Find the Executive summary here (EN) and in other EU languages:
Job Bridge_Stocktaking Report_Executive summary_DE
Job Bridge_Stocktaking Report_Executive summary_IT
Job Bridge_Stocktaking Report_Executive summary_FR
Job Bridge_Stocktaking Report_Executive summary_BG
Job Bridge_Stocktaking Report_Executive summary_ES
Find the Full report here